Start to Salsa voor beginners!
Op dit moment staan er geen Salsa L.A. bootcamps op de agenda. 
Dit zijn unieke events.
Indien je interesse hebt in een Salsa L.A. bootcamp, laat ons dan iets weten op: info@wedance.be
Volg deze Salsa L.A. bootcamp en steel de show op de dansvloer!
Heb je altijd al Salsa willen dansen, maar past een reguliere danscursus niet in je drukke schema?
Droom je ervan om bij het volgende feestje ook op een Salsa liedje te kunnen dansen, ook al heb je geen eerdere ervaring?
Volg deze Salsa L.A. bootcamp en maak kennis met de energie van Salsa.
Betaalmogelijkheden ter plaatse zijn veelzijdig:
contant, bankkaart of via QR-code. Om te zorgen dat je het beste uit deze Salsa-ervaring haalt, verzoeken we je om stipt aanwezig te zijn.
Hoewel het inschrijven met een danspartner niet verplicht is, raden we dit wel aan voor een optimale beleving.
Schrijf je nu hieronder in voor de Salsa L.A. bootcamp!
De bootcamp wordt verzorgd door Riemert en Lisa van WeDance.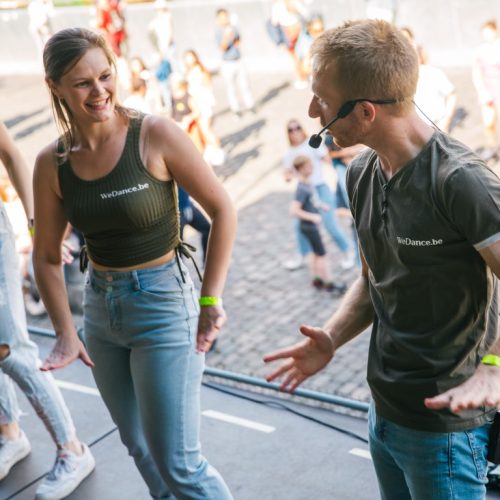 Deze Salsa bootcamp gaat door op de volgende locatie:
De Danszaal van Sportcomplex De Warande Wetteren
Adres
Warandelaan 14b, 9230 Wetteren
Bij WeDance bieden we ook wekelijkse latin danslessen aan.
Wilt u meer informatie over onze wekelijkse danslessen? 
Klik dan hieronder.
Dansen is een taal zonder woorden en creëert onvergetelijke momenten
die we samen kunnen beleven. Het WeDance team heeft samen meer dan
61 jaar danservaring en is gepassioneerd om de liefde en ervaring in dans aan iedereen door te geven.
Benieuwd om het WeDance team te ontmoeten?
Lees hier wie we zijn.
Wil je weten waar onze vrijblijvende dansles en onze
wekelijkse Salsa en Bachata danslessen doorgaan?
Klik dan hieronder om naar al onze danslocaties te gaan.